Google receives viewing augmentation patent for Project Glass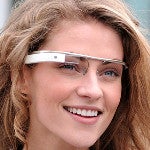 Google is once again been busy with
patent filings
over
Project Glass
. Does anyone else think that Google learned a hard lesson from Oracle, Apple, and Microsoft over the important of filing for patents early and often with new projects? Last week
we reported
that Google had been granted four patents related to the construction of the device, as well as a patent that allows the glasses to know what you are looking at.
Today's patent builds on that ability, as it pertains to a method for highlighting something in your field of view that you may want to look at. One obvious example of this would be for tourists – if you just searched a historic building and are scanning a city scape trying to locate it the glasses could highlight the building for you if you weren't finding it.
Not merely a patent to serve tourists, Google also provided the example of enhancing reading of text (and websites) by letting the glasses ferret out additional information related to your reading subject, and based on that highlighting text, links, or parts of your surroundings related to the content you are reading.
Presumably you'll be able to turn off the feature, in case you don't want to be blinked at incessantly while reading a textbook or jaunting around town on your vacation (alternatively, you could take them off and put them in your pocket). But given the amount of IP that Google is generating, and the growing role of augmented reality viewing that is expected in the coming decade, it's becoming clear that Project Glass may be a success even before they actually build a consumer product.
source:
USPTO
via
Engadget