Google pushing the cloud with new Google Play ads
10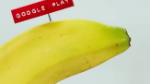 The Google Play Store hasn't really been around too long, but Google has given it premium visibility on its black navigation bar on each Google product page; and obviously, the Play Store is an integral part of the Android experience. But, apparently, the Store isn't getting enough visibility, or at least Google thinks maybe people don't fully grasp the benefits of the Play Store.
Enter: Google Play Store commercials. The commercials are typical Google oddities, wherein you don't actually see the product being pushed, nor really anything computer related at all. Instead, you get a guy in a white coat with bananas and mirrors and liquid. Apparently, Google thinks it's best to just explain the benefits of the Play Store without actually showing the product in action at all.
This is just a very odd way to go about it. We're not sure how a commercial is supposed to assume that the target doesn't know how a product works, and will learn without seeing the product. Especially when you're talking about music purchases, which are instantly available on your Android devices, but only if you've drilled into the Music app settings to enable it. Unlike all other Google apps, that one doesn't automatically pull your account data on the first start.