Google might try to block fast charging systems that don't comply to USB Type C standard
9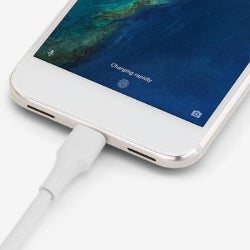 While fast charging on smartphones and tablets is a very welcome feature indeed, it has led to its own specific fragmentation due to the variety of fast charging standards employed, such as Qualcomm Quick Charge, Oppo VOOC, and Media PumpExpress, to name the more prominent ones. Many phones equipped with them require special standardized chargers in order to let users benefit from fast charging. But it's usually only the high-end models that bundle a fast charging-ready charger in the box, leaving some users to a confusing search for the correct third-party fast charger for their phone.
Thus, Google wants to back a universal fast charging solution, presumably the same one it uses for the Pixel phones' USB Type-C standard chargers, and is doing so by encouraging (while subtly threatening an outright ban on third-party solutions) device makers to not adopt fast charging technologies that modify operating voltages beyond standard measure. The text is found inside the latest Android Compatibility Definition document for Android Nougat. In the future, Google could require all USB Type-C devices to support full compatibility with standard USB Type-C chargers, which may or may not render third-party solutions non-viable.
Mind you, this doesn't mean that Android suddenly won't support any form of fast charging. Rather, Google wants to get rid of device-specific chargers and possibly prevent accidents such as exploding (overloaded) batteries. Although smartphone batteries very rarely explode, different fast charging solutions are known for pushing li-ion batteries to their limits, and are therefore not as safe as "standard" chargers.
source:
Android Compatibility Definition (PDF)