Google launches Chrome beta channel for Android 4.x devices
31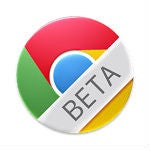 Google loves beta, there's really no arguing that. Google products have stayed in beta for years, and Google loves to offer beta versions of its products for interested early adopters, especially Chrome users. And, starting today, Google has released Chrome beta into the Play Store for Android 4.x devices.
As you would expect, if you download Chrome beta, you'll be getting access to newer features faster. For this first release, Chrome beta is offering improved Octane benchmark performance of 25-30%, and some new HTML5 features like CSS Filters. You can install Chrome beta alongside the regular Chrome installation if you want as well.
The one trick to Chrome beta is that it won't come up in search results in the Play Store, and it isn't listed under Google's developer page, you can only get to it if you have the link. And, as usual with Chrome, you can only use it if you're running Android 4.0+.
If you want to give it a shot, Chrome beta is available for free in the
Google Play Store.