Google kicks off April Fool's early with Treasure Map
5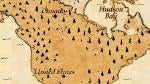 Google is always one of the more active companies when it comes to April Fool's Day, and this year is no different. Google has even decided to kick off the "holiday" a bit early. First, we are getting the obligatory April Fool's skin for Google Maps, a Treasure Map which has been buried for over 300 years.
The Treasure Map layer for Google Maps is all well and good. It can't really compete with the 8-bit Maps we saw last year, but it's pretty cool, and beyond the new skin for Google Maps, there is a Treasure Hunting game. Google did a good job, even going so far as to add a sepia filter to all of the Street View images in Maps.
The story is that while Google was building up its ocean maps, they came across Captain Kidd's 315 year-old map showing the location of treasure around the world. If you want to check it out, just head over to
Google Maps
. And, keep an eye on the
Google Maps G+ page
for more clues.