Google is the most popular tech brand, according to new poll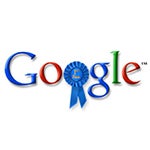 Apparently the recent
kerfuffles
over
user privacy
haven't damaged Google's brand significantly in the eyes of U.S. consumers. According to a recent ABC News/Washington Post poll, Google beats out Apple for the crown of "most popular tech company. 82% of those surveyed has a positive view of Google, with 53% expressing a "strongly favorable" view of the search and mobile tech giant. Just 9% had a negative view (presumably many of them tech writers…), and 10% had not formed an opinion.
Those are approval numbers that a politician would
kill for
.
Apple was not too far behind, with a 74% favorable rating, of which 40% viewed Apple "very favorably". Social media brands like Facebook and Twitter did not fare as well (see graph below), with Twitter in particular having an apparent image problem – Twitter saw a three way split between those with a positive view of them, a negative one, and no opinion formed. Such a high rate of "don't know" responses suggests that Twitter is still something of an enigma to consumers; this may be especially true of the half of the U.S. population that doesn't own a smartphone.
No surprisingly, age demographics played an especially important role in the "don't know" category – Google's 10% uncommitted rate climbs to almost 30% among senior citizens – seniors are even less likely to have formed an opinion on Twitter, where 51% have not formed an opinion.
The strength of Google's following would appear to contradict a meme that is floated around in the tech media – that Apple succeeds mostly due to its brand popularity, and/or that Android is in some way hobbled by Google having less appeal than Apple. Of course one can have a positive view of Google's search engine and not purchase an Android phone, so this study doesn't perfectly translate to the realm of mobile platforms, but it does suggest that Android would be benefitted by a closer association with the Google brand.
In this light, the move to rebrand the Android Market as the
Google Play Store
may prove to be prescient.
source:
Langer Research report
via
BGR