Google+ integration with Flipboard points to a looming G+ API
2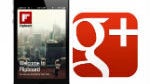 Flipboard has every reason to not want to make deals with Google, but it looks like the company will anyway. It has been announced today that Flipboard will get integration with Google+ through access to the Google+ API. The reason we're a bit surprised by this news is because of the history of the two companies. Google once tried to purchase Flipboard, and allegedly threatened Flipboard that if the deal wasn't made, Google would launch a competitor to take down Flipboard. The purchase never happened, and subsequently,
Google launched Currents
as its "Flipboard killer".
Of course, even without an official Android app, Flipboard has not been killed by Currents, and really Currents hasn't gotten all that big of a following at all. So, it's pretty interesting that Google has now made amends and made a new deal with Flipboard in order to get Google+ integration with the popular app. Google's VP of Product Management, Bradley Horowitz, showed off an unreleased version of Flipboard for iPad with the Google+ integration at LeWeb in London. For those of you that have used Flipboard for iOS, you know that the share menu already includes Google+, but this new deal will add +1 buttons to articles as well, and even pull posts from your G+ stream. This is even bigger news because of the API involved.
We've heard sporadic stories of a Google+ API, but no actual evidence until now. There was word that Hootsuite was going to get Google+ integration, but that ended up being limited to enterprise users managing G+ Pages. This seems to point to the fact that Google has a true API with read/write capabilities, and given the timing of this announcement, that API should be making an appearance at Google I/O next week. Google has been very careful about how it has rolled out Google+ and its features, so we don't expect that the API will be made public at I/O, but we certainly hope to learn more.
Google+ has been growing at a pretty solid clip and has a pretty active community, despite mass media claims that the service is something of a "ghost town". As he was showing off the Flipboard integration, Horowitz said that the 170 million user count on Google+ was "stale", although he didn't give an updated number. Again, we'd assume that number will come either at Google I/O, or during an upcoming earnings call. Whatever the number, it will likely be substantially less than the 900+ million of Facebook and the 500+ million of Twitter, but the fact that Google+ has potentially crossed the 200 million user mark without a public API is an incredibly impressive feat as is.
Facebook built its user base on exclusivity, with its slow rollout from college campus to college campus. Twitter built its user base through celebrity support, but more importantly, one of the best APIs available. The official Twitter never had the best features, it has been the 3rd party apps that have pushed the platform, but also pushed Twitter to add new features to the service like better retweeting and better handling of links and images. On the other hand, Google+ has built its user base without API access. If you wanted to use G+ you could only get there via the official mobile app or website. The +1 button has become more and more ubiquitous, but it has come without an official API attached.
We'll have to wait and see what Google I/O holds, but if Google does start rolling out an official API, it could be huge for the Google+ platform. We wouldn't expect full access allowing for unofficial G+ apps, but we would expect a controlled release to more apps like this one with Flipboard. Google has been very careful to control the noise on Google+, so we don't expect anything to move too fast, but at the very least we could see what the future holds for a potential Google+ API.