Google got itself a Motorola: will this change the Android landscape?
25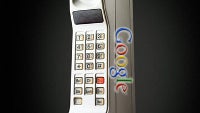 Motorola DROID
and Verizon's glitzy marketing behind it was the phone that gave Google's fledgling mobile operating system street cred and visibility two years ago, and the
Motorola XOOM
was the poster child for Android Honeycomb, Google's first effort for a tablet OS. CEO Sanjay Jha, on the other hand, turned the sinking Motorola ship around thanks to Android smartphones - quarterly losses of $1.2 billion are now history, and
Motorola only lost $85 million last quarter
.
Today both companies
decided to tie the knot
, and Google asked for the hand of Motorola from the shareholders by opening its coffers, and sprinkling them with 63% premium over the Friday's closing price for the company, which is actually a normal margin for such friendly acquisitions.
The $12.5 billion Motorola buyout is the largest in Google's history
, diminishing its $40+ billion cash pile quite a bit, but it makes sense from each and every angle you look at it, and has been unanimously approved by both boards.
Here's a quick recap of the conference call that we just listened to, where Larry Page and Sanjay Jha, the CEOs, answered the burning questions of analysts. Larry went down the memory lane back to the meeting with Andy Rubin in 2005, where he shared the vision for a common smartphone platform. Then he praised Motorola Mobility's transformation since they jumped on the Android bandwagon, with the assertion that Motorola will be a separate entity that will have the current management team intact. An interesting fact is that the
home automation and TV set-top business were mentioned specifically
.
Sanjay Jha, on the other hand, said that Motorola has been blessed with the arrival of Android, and has a lot to offer to further expand the ecosystem, being very strong in Latin America - number one in Brazil, and very popular in Argentina and Mexico. He mentioned that Moto is also very strong in China - one of the top smartphone manufacturers there, with handsets tailored to the local market.
In the Q&A session that followed Google was asked about the
legal ramifications on Android
before and after the deal. Sanjay Jha clarified that
Motorola has over 17 000 issued patents, and 7500 patent applications in process of issuing
. "
We believe we'll be in a very good position to protect the Android ecosystem now
", commented Google. Let's not forget that
Motorola started suing Apple on 18 counts of patent infringement
in October last year, so Google can eventually use this as leverage in lawsuits that target Android.
It also turned out that Andy Rubin has spoken to the top 5 Android licensees, and all have showed enthusiastic support of the deal, since Google reaffirmed Android will be kept open and going as wide as possible.
There will be no changes in how Android will be developed and run
, and for Motorola it will be business as usual - the move is seen chiefly as protecting the ecosystem from litigation.
One analyst asked why Motorola, instead of partnering, or acquiring someone else. After all, he said, Motorola has physical assets, plants and so on, which is not Google's core competency. Larry Page answered that none of the others have the strong patent portfolio Motorola has, and, since the company will be run as a separate entity, Google won't be dealing with manufacturing facilities and the like. The deferred tax asset of Motorola Mobility have also been taken into consideration with the closing price.
Google apparently plans to leverage Motorola Mobility's home business too. The company owns the 4Home home automation communication platform, and offers set-top TV boxes in partnership with Comcast.
Motorola is looking to expand convergence between the home and mobile business
, leveraging Android@Home and other niceties coming from Google. For an overview what the company has done so far in the field of home automation, you can read our in-depth article
here
.
Last but not least, what will happen to
the Nexus brand
was answered. Google reiterated that every Christmas they start choosing a Nexus phone manufacturer, then work with it and chip suppliers 9-12 months to come up with a poster child for a new Android version. This process is apparently not going to change, and Motorola will have to bid together with the rest of the Android gang for the privilege to make the Nexuses of tomorrow.
In a nutshell, both CEOs tried to assure investors and journalists that nothing is going to significantly change in the Android ecosystem, except for the fact that it will be
way more protected from patent trolls
. Motorola Mobility will even remain a separate entity in the reporting aspect, too, and will keep delivering its own financial reports like it had been until today.
We find it hard to believe that Motorola won't be able to differentiate its Android handsets much more, now that it is owned by Google itself, but we will save judgment for the first phones conceived post-acquisition.We will also dive in the public filings as soon as they become available regarding the Google-Motorola deal, and see if there are any hints about possible future changes to Android now that Google got itself a hardware company. What's really interesting is the future value Google sees in Android, protecting it to the tune of $12.5 billion, despite that the revenue from its mobile OS pales in comparison with the core search business for now.
Are you surprised by the Google-Motorola deal, or do you think it makes sense for both companies?