Google forces manufacturers to hide their own gesture navigation setups in Android 10
12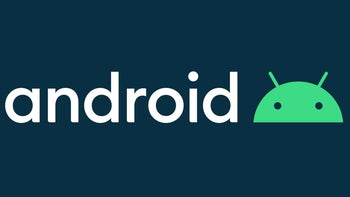 When Android 10 launched last month it brought a number of changes with it including Google's improved gesture navigation system. Or was it improved? Trying to navigate around certain apps and websites will accidentally trigger the back gesture. For example, if you go to the Go Comics app and try to swipe to that last panel on the right side of the screen, you'll often end up going back a page. Or if you play Words With Friends, you might find yourself accidentally triggering the "Back" gesture when moving the "tiles." This can be adjusted by using the sensitivity slider found in the gesture settings. To get there go to Settings > System > Gestures > System navigation. Tap the gear icon. Low sensitivity requires a firmer swipe to set off the "Back" gesture while high sensitivity makes it too easy to trigger this gesture.
Google has a lot at stake in making sure that its gesture system becomes as intuitive as the one used by Apple for iOS. In many ways, the Android gestures copy Apple's system with a swipe up from the bottom of the screen taking you home from any page. And both operating systems will allow you to browse through open apps by swiping up from the bottom and stopping halfway up the display. Google added a new shortcut to Assistant in Android 10 with a swipe up from the left and right bottom corners of the screen.
And it certainly seems that Google wants its gestures to be the default on all Android phones.
9to5 Google obtained
a copy of the Google Mobile Services (GMS) agreement that Android device manufacturers must agree to follow. While Google previously mentioned during I/O 2019 that manufacturers could include their own gesture navigation system on devices running Android 10, the GMS agreement says that these firms have to also include the new gestures found in Android 10 along with the traditional three-button setup. And the GMS agreement demands that these manufacturers' phones come out of the box with the Android 10 gestures or the three-button setup enabled by default. Thus, if a phone comes out of the box with the Android 10 gestures selected, the three-button system must be made available as an option and vice versa.
Google's two-button "pill" navigation, found on Android 9, is no longer an option in Android 10

As a result, manufacturers with their own gesture navigation system must keep it hidden, even from the SetupWizard. The latter is a UI that displays a series of steps that Android users can follow to set up a new phone. The manufacturer's gesture system also cannot be advertised by a popup or a notification. Since Google is allowing only the Android 10 gestures or the three-button system to be selected by default, the phone manufacturer cannot have its own system enabled on a new handset out of the box. In fact, it must be buried in the Android settings menu. under "Advanced."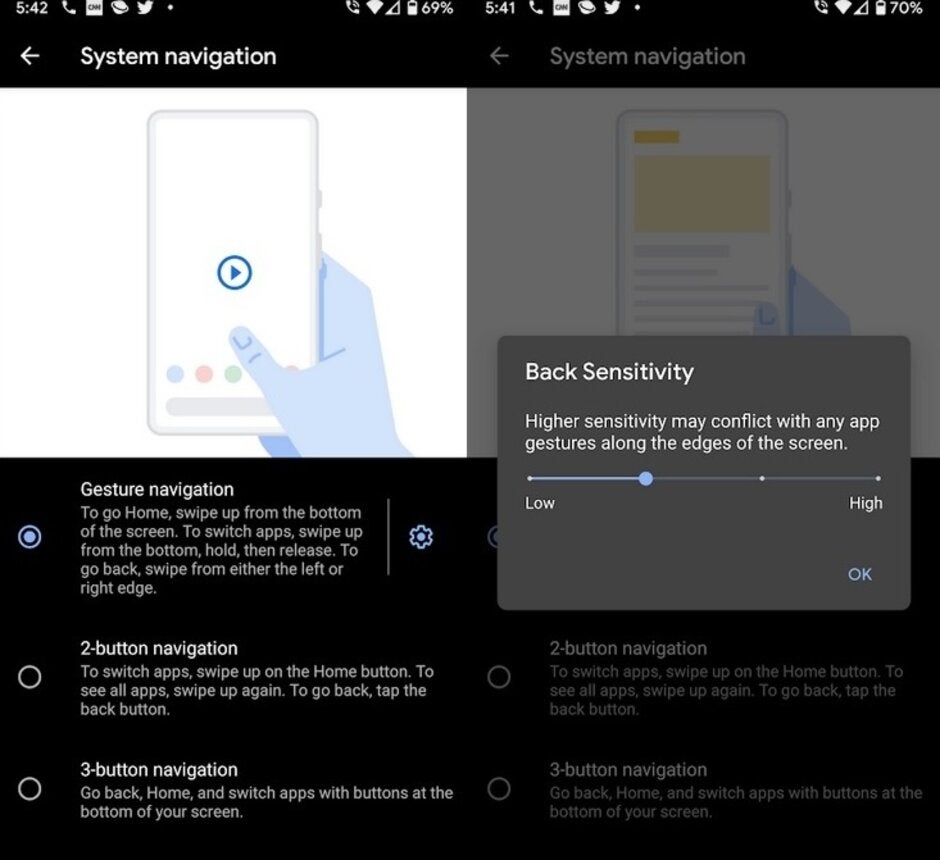 Gesture option on Android 10 allow users to customize the sensitivity of the Back gesture
In addition, the gesture navigation system that Google introduced in Android 9, a two-button "pill" navigation setup, is not found as an option on Android 10. Possibly developed as a way to "ease" Android users into the whole new buttonless world of pure navigational gestures, this system has a pill-shaped button that will take the user "home" by tapping on it. Swiping up on the pill allows users to access their recent apps while a back button still exists for those who need to go back a page. While different than anything that Android users were accustomed to prior to Pie, it still doesn't provide for a smooth intuitive experience.

The Android 10 gestures won over users who installed the Android Q beta on their phones. That dovetailed with Google's own decision to move to a 100% gesture system to make more of the screen on an Android phone available for an "immersive experience." And in a blog post that it published in August a month before Android 10's release,
Google noted that "gestures can be a faster, more natural and ergonomic way to navigate your phone."
The company went on to say that "gestures are more intentional than software buttons that you might trigger just by grabbing your phone." However, unless you know exactly where to look, you might overlook another gesture navigation option provided by the manufacturer of your Android phone; that is done by design-Google's design.