Google explains why ICS has no built-in visual voicemail app
27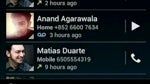 So, here's the deal Ice Cream Sandwich doesn't come with a built-in visual voicemail app, but according to Google this is by design not a mistake. If you remember the ICS announcement, Google never showed off a dedicated visual voicemail app, just the solution that voicemails will be listed in your call log. Google has explained that ICS doesn't have a built-in visual voicemail app, because visual voicemail is carrier-dependent. So, Google has included an API which will allow carriers and developers to build their own solutions that work best for their users.
In theory, this seems like a good idea, because visual voicemail is not yet a standard across all carriers, but our experience with Android has shown that anything that is taken out of Google's hands and put into the hands of carriers tends to cause delays. Of course, if you don't trust your carrier, there is always the Google Voice option (assuming you live in the USA) which will be able to handle your visual voicemail needs. And, there are a number of 3rd party apps which can handle the task.
We'll have to see how this shakes out, but we don't think the news is as bad as it sounds, especially since there is the access to voicemail in your call log. We'll definitely start testing out 3rd party visual voicemail apps and give you a breakdown of the best options though.