Google confirms that Chrome Apps will eventually come to mobile
9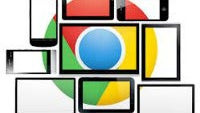 Earlier today, Google announced new Chrome Apps that function and look much more like native apps (at least in Windows). This is a pretty interesting development, and one that those of us who work at PhoneArena will be taking advantage of; but, it isn't the type of story we thought we would need to cover since it doesn't apply to mobile devices. Then, a Googler said that Chrome Apps will eventually come to mobile devices.
Okay, those weren't the exact words used. What Rahul Roy-Chowdhury, a project manager overseeing the Chrome Apps project, said was:
We're targeting the desktop as our first order of business because that's where the majority of our users are," he adds. "We want to nail that first. But our goal, eventually, is to get this to run everywhere that Chrome runs.
That is a pretty ambitious proposition. The idea from a development standpoint is that you write a web app and it will be able to run anywhere Chrome runs, but from a functional standpoint, it's a bit more interesting, because the plan isn't to have the apps installed like an extension, but rather to have them come through your normal channels like Google Play or Apple's App Store. And, since this is Chrome, your apps and data will sync across all of your devices as well.
There is no timetable set for these plans, but it sounds pretty interesting. Essentially, the idea is that Chrome will make any platform it is on into an HTML5 app platform. It's a bit unclear right now, but this could give smaller developers a much easier way to get apps onto various platforms, although the apps will likely be limited in features since they won't be native code. Of course, with Sundar Pichai as the head of both Chrome and Android, we wouldn't be surprised to see HTML5 apps look more like native apps on Android.