Google closes deal to sell Motorola Home to Arris
4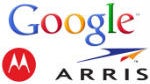 It's been almost a year and a half since we first heard that
Google was going to buy Motorola
, and just under a year since
the deal closed
with Google paying almost $13 billion for the company. Back in December, it came out that Google was going to offload the cable TV and internet device half of the company,
Motorola Home
, to Arris. Now, that deal has finally closed.
The original report of the sale said that Arris had agreed to purchase Motorola Home for $2.35 billion in both cash and stock. The deal has closed, and the final tally is that Google is getting $2.2 billion in cash and 10.6 million shares of stock. Arris is also giving 10.6 million shares of stock to Comcast in return for its $150 million investment, making Comcast and Google equal with 7.7% stock each.
Arris has also announced that its current CTO who had been running Motorola's home division since June 2012, Marwan Fawaz, would be leaving the company; and, Larry Robinson, the former VP of Motorola Home, will run the Home Devices division at Arris.
Google obviously is keeping Motorola Mobility, the cell phone hardware business and related patents, but it no longer controls the set-top box side of things. It's a good way for Google to get back a bit of the cash it spent on Motorola in the first place, but we were kind of interested to see Google keep Motorola Home, and build awesome set-top boxes with Google TV built-in.
<rant>The set-top box market is one that is in desperate need of disruption, because it's basically a big scam by cable providers. We get set-top boxes that are terrible, and have none of the advanced features that you would expect from a modern technology,
and
we are forced to pay a monthly fee for that terrible box. Even worse, we aren't allowed to use 3rd party boxes, because cable providers have somehow skirted the law and made that impossible. </rant>