Google buys popular iOS and Mac email client Sparrow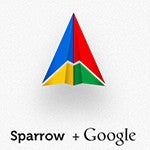 Sparrow CEO Dom Leca announced today on the company's blog that they were acquired by Google. If you use a Windows PC and an Android (or WP7) phone, right about now, you're probably asking, "Who??". If you're a Mac and/or iOS user however, you may be doing your best to stem the sobbing. Sparrow's 3rd party email clients and apps are very popular on Apple's platforms, and were widely considered to be among the best email UIs available.

Sparrow will continue to be made available for the time being, and current customers will still be given support, but Leca indicated that there will be no new features added to the software from here on out. The good news (for everyone) is that this was a talent acquisition by Google, and Leca and his team will be joining Google's Gmail team to create more elegant and effective email UIs for Gmail, and to better tie together the Gmail experience across all of its many platforms.


FEATURED VIDEO
According to sources speaking to The Verge, Google dropped somewhere south of $25 million to buy Sparrow, and the deals include relocating the Paris-based team to Mountain View for full integration into the Gmail team. Their sources also indicate that Google was explicit about recognizing the excellence of the design and UI work done by Sparrow, so it looks like they are coming to add some of that same magic into Gmail, rather than the simple elimination of a competitor.

While this will probably be bittersweet for Sparrow's current users, the idea of bringing their innovation to the entire Gmail user base should mean many more years of innovative webmail development from El Goog.


source: Sparrow via The Verge