Google apologizes for failed 10-cent app purchases, gives free access to apps
18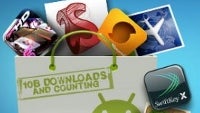 Google has opened the bag full of Christmas gifts early - it's been celebrating
10 billion downloads on the Android Market
by slashing prices on some of the finest app to a mere dime. No excuse not to get them, right? And many of you tried - after all a single buck for 10 apps is not something many would miss out on. However, some who tried to purchase apps from the 10-day 10-cent app promo, couldn't get their orders through.
In fact, Google seems to have
cancelled some orders
and other users just got error messages instead of being able to download the apps. This is all due to the enormous traffic to the Android Market. Good news for those with their orders cancelled is that if you have tried to download one of the 10-cent apps and couldn't finish the download process, Google will do its best to deliver on its promised applications. The company is sending out the following emails and you should receive one as well in the near future:
We're writing to apologize for any accidental cancellation of your Android Market orders during our 10 Billion Downloads promotion. We'd like to inform you that as a one-time courtesy, we're giving you free access to all the apps you attempted to purchase. To download these apps, please follow these steps:
1. Open Android Market on your device
2. Press "Menu" and then touch "My Apps"
3. Scroll down and select the apps in question. They should be labeled as "Purchased" or "Not installed."
4. Touch "Install" to download and install the app
If you have any further questions, please don't hesitate to contact us through our Help Center at https://support.google.com/androidmarket/bin/request.py?hl=en&policy=apps&contact_type=contact_policy
Again, we apologize for any inconvenience and hope you have a wonderful holiday season.