Google announces new Acer C7 Chromebook available Nov. 13 for $199
9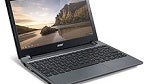 Looks like the
leaked images from yesterday
was just the beginning of the door opening for all to see with Google's newest addition to the Chromebook family.
The Acer C7 is positioned price-wise below the two available Samsung models, yet has some distinctive features that many may find appealing. The first major difference is on-board storage, as its predecessor had only a 16GB SSD (just like the current Samsung models), we did not think Google would stray from the push to get people to use Google Drive. As such, our guess was that there would not be a big bump, if any, in on-board storage. Our guess was just a wee-bit off the mark, as the C7 holds a 320GB HDD. The older AC700 also supported 3G connectivity, but that feature is not present on the C7. Couple that with the price point, and our assessment about where this Chromebook would sit in the hierarchy of offerings was also off the mark.
Now that we know however, we can tell you exactly what you
do
get for $199. It is not a bad deal at all, in addition to the significant upgrade in storage, there are 3 USB 2.0 ports, front facing HD camera, Wi-Fi 802.11a/b/g/n, HDMI, VGA and Ethernet are supported, plus an 11.6-inch HD (1366x768) display. Like the other Chromebooks, you get 100GB of free cloud storage for two years, plus 12 free sessions of Gogo Inflight Internet. Under the hood, the C7 is powered by an Intel Core processor. The C7 weighs only 3 pounds and is one-inch thick when closed. Google claims a boot-up time of just 18 seconds and the ability to resume where you left off instantly.
The trade off it seems, is with the battery life. The C7 lists battery life at only 3.5 hours which is just over half of what the other Chromebooks will achieve. Moving parts of the hard-drive and a processor fan are a part of that combination no doubt. Despite that, the price-point is very attractive and makes overall for a decent deal.
The Acer C7 will be available tomorrow in the US on Google Play and BestBuy.com with in-store stock arriving later this week at Best Buy. For the UK, it will be available through Google Play, Amazon UK, PC World and Curry's.
Is the price of this new Chromebook enough to entice you to give Chrome OS a spin?
source:
Google Chrome Blog