Pictures of new Chromebook by Acer leak
3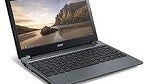 About a month ago,
Google announced a revised line-up
to the Chromebook. These laptops are very light, are known to have a very fast start-up speed, and are kept up-to-date automatically since they run Chrome OS.
With the revised line-up, the Acer AC700 was dropped along with the Samsung Series 5 Chromebooks leaving just two models available with prices starting at $250. Now some images have leaked of an Acer Chromebook which might be called the AC710. It shares an outward resemblance to Acer's Aspire A5 Windows 7 laptop, but from there any comparisons are probably not very worthwhile.
Specification-wise, nothing is known about this Chromebook, nor do we know anything about a possible release date. Based on the specs of its predecessor, there is room to make incremental improvements without breaking the bank, as the AC700 was packing an 11.6-inch HD display, Intel Atom 1.6GHz processor, 16GB SSD, and wireless support across all the expected protocols. As Google wants you to use the cloud, do not expect any bump in on-board storage. Since the AC700 had 3G compatibility, this new Chromebook may sit between the two available Samsung units in features and price.
For now, all that is conjecture. We are still interested in seeing where Google will grow this along with Android and see how it sits amongst the ever innovating competition.
sources:
MiniMachines.net
via
Electronista