Google announces Drive update a bit early
7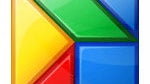 It looks like someone over at Google was a bit premature on the "publish" button, because a blog post and subsequent tweet went out announcing an update to the Google Drive app, but the update wasn't quite ready to go. Both the blog post, and the tweet were killed pretty quickly, but not before the news was caught. And, surprisingly, as of this writing, the tweet that went out on the official @GAppsUpdates Twitter was still alive.
The updates to Google Drive's mobile apps sound pretty solid too. iOS users will finally get the ability to edit documents, which is a huge one, as well as options to view Google Presentations. Android will get more in-depth features, which is no surprise. Android will soon be able to create folders, move files between folders, upload to folders, create or edit tables in Spreadsheets, comment on Docs, and options to view, present, and comment on Presentations.
The blog post said that updates should be coming in the next few days, but it's unclear if that information is reliable.