Google announces 200 million Android devices activated, 550,000 every day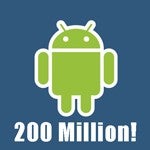 These days companies can't just hold an event to launch a new product; they also like to brag about numbers. And at tonight's Google Music event Google had some pretty impressive numbers to reveal. According to Big G more than 200 million Android devices have been activated to date. That number includes both phones and tablets, but given the state of Android tablet sales numbers we have to assume that 195 million or so are smartphones.
Those of you with a good memory may recall that Google announced their first 100 million activations at Google I/O back in May, a mere 6 months ago. So you can imagine a heck of a lot of people have activated Android phones on a daily basis. Google has you covered there also, reporting that 550,000 Android devices are activated every day. To put that in perspective, 3000-4000 new Android devices have been activated since you began reading this post.
photo credit:
Engadget