Google and many others are sued for infringing on the Android trademark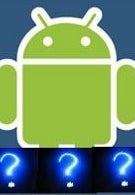 Erich Specht runs a business called Android Data Corporation and another one entitled Android Dungeon Inc. In a lawuit that started in an Illinois State Court last week, Mr. Specht is suing Google, the Open Handset Alliance, and 45 other companies including Samsung, Motorola, Sony Ericsson and T-Mobile over the use of the Android name. A software developer and Internet Service Provider, Mr. Sprecht had filed to protect the name "Android Data" on June 4, 2000. The request was granted on October 22, 2000. The Patent and Trademark Office required Specht to agree not to file any claims against the "Data" part of his company's name.
On Halloween Day, 2007, Google filed with the PTO to trademark the name "Android" which was denied because of the possible confusion between Google's "Android" name and Eric Specht's "Android Data". So Google did what many companies do when the government puts the kibosh on a project-they ignored the Agency, going ahead and using the Android name anyway. Specht wants the defendants to be enjoined from using the Android name and he wants damages. One thing in his favor for sure is that this could be the record for the deepest pockets ever seen for a group of defendants. Now we know why the Android robot is green.
source:
TG Daily
via
EngadgetMobile