Google adds group SMS to Google Voice web app
This article contains unofficial information.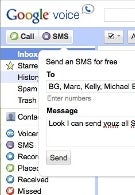 As we
told you
the other day, Google got around Apple's objections about adding Google Voice to the App Store by making it available as a html5 based web application for the iPhone and webOS devices. And for those who want to send messages to more than one person at a time, Google has added the ability to send SMS to multiple contacts on its web app. Users of Google Voice have been requesting the ability to do this for some time. Google has not made an official announcement yet, but they now have the ability to use Google Voice and send out a SMS to all registered users to tell them about this update. See Google, it really does come in handy. To send a multi-recipient SMS, click on SMS and just type the names of the parties receiving the message. So simple, a caveman can do it.
source:
lifehacker
via
BGR