Google Play may be getting a News section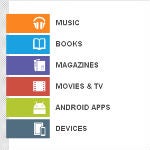 Some intrepid code hunters have found evidence that Google may be about to introduce a new section to the Google Play Store: a News section. The idea is that it will be something similar to Apple's Newsstand, but focused specifically on newspapers since Google Play already has a dedicated Magazines section.
Apparently, the big indicator that this was more than a rumor comes from the code of the web version of the Play Store itself, which has mentions of the News section:
To read Google Play News, you must have a supported Android phone or tabletPlease sign in to get this News edition.
Please sign in to purchase this News Issue.
Please sign in to purchase this News Edition Subscription.
Subscribing you to this news edition...
You have subscribed to this news edition. It is now available on your device.
As you can tell from that, the News section would offer both Issues and Subscriptions to news sources, and just like other Google Play options, it will automatically send content to your devices.
If we had to guess, we'd assume that this is something that's in the works for a Google I/O launch, just like Magazines were launched at last year's I/O along with the Nexus 7.