Google Play has Black Friday weekend deals for you
7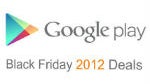 The Google Play Store has been no stranger to deals in its lifetime, and has had myriad sales in effort to get customers to use the store more frequently, so obviously Google has some traditional Black Friday deals that will last through the weekend. Every section (except "Devices" of the Play Store has deals, but some are better than others, and this time around we'd give the nod to the deals in Books and Music.
There are deals in the
Apps section
, but really it's just discounts on in-app purchases for a bunch of games. So, if you're a fan of games like Eternity Warriors II, Pocket Legends, or Cordy, you'll be able to get discounts on in-app purchases. There is also a good deal on bumping up your NBA Game Time app to the Game Time Plus offering, but unfortunately, the NBA hasn't yet updated the app to support Android 4.2, so just watch out for that.
There are also deals in the
Magazine section
of the Play Store, but as far as we can tell, it's the same set of magazines that have been on 50% off deals ever since the magazine section was launched over the summer.
If you're looking for
TV
or movies, there are deals there as well, but just not that big of a selection. In TV, there are deals on seasons of
Friday Night Lights, House, Alphas, Eureka, Heroes,
and
Warehouse 13
. So, at the least, those first three shows are worth a look.
The
Movies selection
is also relatively limited, but there are good deals to be had. It's hard to say no to $2.99 for either
Jaws, The Big Lebowski, Scarface, Serenity,
or
Fletch
. But, as you can see, the selection is limited to older movies.
Now, getting into the good stuff, the
Music selection
of deals starts at $2.99, and best of all, it's a selection of the "Best of 2012", so you can actually get new albums in here. Some of the albums that we'd recommend don't hit that $2.99 price point, but $4.99 for the new Kendrick Lamar, NAS, or Green Day is still a great deal. For $5.99, you can grab new albums from Fun., or Grace Potter and the Nocturnals. Definitely some great deals in the music section.
Lastly, there is the
Books section
, which is offering "80% off new and popular reads". Top pick here is
The Hunger Games
series, where you can get all three books for less than $10 (the books are far better than the movie, and definitely not just for tweens. These are seriously good books.) Additionally, for just $3 you can grab
The Hobbit, The Breaks of the Game, Muhammad Ali: His Life and Times,
or
Million Dollar Baby
. And, the surprise offering is a book called
TekWar
by the legendary William Shatner for just $2 (but beware, the reviews on Shat's book aren't that great.)
Pretty solid deals from Google, and you have through the weekend to make up your mind. If nothing else, that's a lot of media on sale to help you pass the time as you're working your way through Thanksgiving leftovers.