Google Play edition devices should get Android 5.0 Lollipop "early next week"
8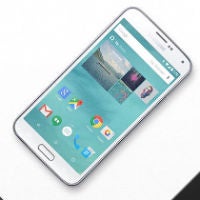 When Google first unveiled Android 5.0 Lollipop and the new Nexus devices last month, it said that the software update would be coming to Nexus devices and Google Play edition devices in the "coming weeks". That is a relatively vague timeframe, but the Nexus devices started getting the update a couple days ago, and now it sounds like Google Play edition device users won't have to wait much longer.
The word comes directly from HTC's Vice President of Product Management, Mo Versi. Versi flat out said to a couple users on Twitter that the "target is early next week" for the Lollipop update. HTC has two Google Play edition devices in the lineup, the HTC One M7 and M8. We haven't seen any word from any other companies, but we'd assume that Samsung, Motorola, LG, and Sony are all aiming for the same time.
Of course, the updates for Play edition devices do come directly from Google, but Google needs to get some hardware drivers from manufacturers. We'll be keeping an eye out, but it looks like GPe users will only have to wait a couple more days before their updates start rolling out.