Google Play Services 7.3 allows more than one wearable to sync to your phone at the same time
6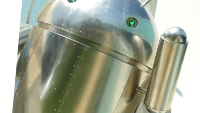 An upgrade to version 7.3 of Google Play Services is bringing with it some new features, including the ability to connect more than one Android Wear powered wearable to your Android phone at one time. If you own more than one Android Wear timepiece, you can now wear all of them at once (if you so desire) and pair all of them to your handset at the same time.
New APIs have been introduced, designed to send larger files and stream data between devices. It's good news for developers who can use the new Channel and Capability APIs to more easily move information between devices. Apps can now access real-time data from Google Fit more easily, allowing you to look at your connected watch or other devices, and see your step count up to the second. Developers will use the History API to arrange this capability.
Google's developer blog is full of developer-speak. To make the changes easier to understand, the tech titan produced a video that explains the new capabilities in plain English. Just click on the video below.
source:
AndroidDevelopers
via
AndroidAuthority