Google Play Magazines added "free for print subscribers" weeks ago, media just noticing
2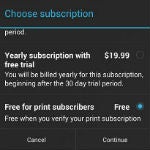 It's interesting how these things work. We all know that the Christmas/New Years holidays are something of a dead zone for tech news, but the real oddity is when news sites start to trudge through the changes that happened during that time as if it is something new. The latest example is with Google Play Magazines, which got an update about a week before Christmas, which added "free for print subscribers", but that news fell through the cracks until now.
The update came alongside Google's announcement that a whole slew of top magazines would be made available for Play Magazines including big names from Time Inc., like Time magazine, Entertainment, People, and Sports Illustrated. The blog post about that update hit the Play Store Google+ page on December 19th, which was about a week after the Google Play Magazines app was updated with the mysterious "Support for future interactivity" feature. Many of the new magazines added to the store took advantage of this "interactivity", and they also allowed for Android users to get free digital versions of the magazines if they could confirm that they had a print subscription. You can't always get a free digital version, but if you have print subscriptions, it's always good to check and see. We can confirm
it works on the new Time Inc. magazines as well as Condé Nast publications, and you can only get the option in the Play Store app, not on the website.
Many other sites are reporting this news as though it is a brand new change, and linking to a support page that doesn't have a date on it. But,
we'll be honest with you, we saw this news over the holiday, but we were too full of mulled wine and ham to write it up
. Although, now that the story is circulating anyway, it gives us a reason to post it, and we'll link to the original post about it.