Google tried to include a notch on the regular Pixel 3; hardware restrictions stopped it
13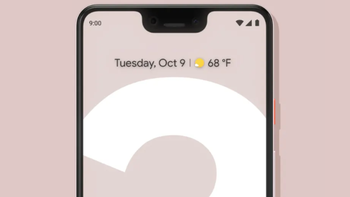 While internal upgrades are on par with those of other 2018 flagships, it's fair to say that the design of Google's
Pixel 3 series
is a bit of a disappointment. This is largely due to the notch on the XL model but, from the looks of things, it appears the whole situation could have been much worse.
When speaking to
Android Central
's Daniel Bader earlier today,
Google
admitted that it did look into including a notch on the regular Pixel 3 too. In fact, if everything had gone its way, the Pixel 3 unveiled today would also sport the controversial feature. Unfortunately for the company, and rather luckily for consumers, hardware restrictions made including the design element impossible. More specifically, it seems Google's dedication to the loud front-facing stereo speakers and the two new selfie cameras were the key decisive factors. After all, due to the overall narrower body, an even bigger notch would have been required in order to accommodate everything, something that even Google wasn't too pleased about, hence its decision to scrap the idea.

Now, while Google didn't mention anything about the future of its design direction, the fact that it already looked into including a notched display on the Pixel 3 does suggest that a workaround will likely be found in time for next year's model. This means that 2018 may well be the last time we see a notch-less Pixel device. That is until truly bezel-less concepts reach consumers, anyway.

Only time will tell what design Google decides to adopt for next year's Pixel series. If it does choose to embrace the notch once again, though, fingers crossed it makes an effort to reduce its overall size. Same goes for the large chin below the display.