Google Now weather cards get a (frog) visual overhaul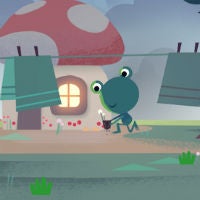 This was a change that had been rumored for a bit now, but Google has officially done a visual overhaul of the weather pages that pop up within Google Now. The changes come with a new weather mascot -- a cartoony frog that looks like it could be a distant relative of Kermit. It is reminiscent of the Tea House theme in Gmail that had a cartoon fox and would change the scene based on the time of day.
However, it looks like Google has bigger plans for these pages, because not only will they change based on the time of day but also for weather conditions. It doesn't appear as though the scenery changes based on location though. We did quick searches and the scenery for Kingston, Jamaica was the same as for Chicago and Juneau, Alaska of a grassy field with trees in the background (although a search for Moscow did give a winter theme).
But, aside from the cute frog, the weather pages come complete with hourly sky conditions and chance of rain, severe weather alerts, a detailed 10-day forecast, air quality, UV index, sunrise and sunset times, and more. And, searches for specific locations will give you an option to add that location and it will then show in the search bar drop down when you're looking at the weather.
Overall, it looks pretty nice. No word on a rollout, so we'd expect the changes to be available for most users. This is Android only right now, though. No word on an update for Google Now on iOS.