Google Now voice searches just got much more personal
2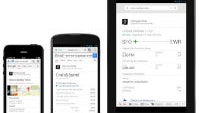 One of the best demos from this year's Google I/O came when Google was showing off the improvements that were coming to Google Search, especially with voice searches. We've already seen a bit of it roll out with the contextual linking, which brought support for pronouns and linked searches (ie. "How tall is Roy Hibbert?" followed by "What team does he play for?") Now, Google has started rolling out the personal side of search.
Google has announced that over the next few days, English-speaking users in the U.S. on all platforms and devices will see their Google Search results include data from
Gmail, Google Calendar, and Google+
. A lot of this info has already been passively aggregated by Google Now, but now it will be accessible in voice searches. This means you will be able to ask Google things like "When will my package arrive?" or "What are my plans for tomorrow?"
Google Search will be pulling info for flights, reservations, purchases, plans, and photos. We've played around with
the photos searches and they are by far the most impressive of the bunch
, because it really shows off the power of Google's contextual image processing. So, if you have your photos on Google+, you will be able to do simple searches like "Show me my photos from Jamaica" to more complex/absurd things like "Show me my photos of hair/food/cars". It is some very impressive stuff.