Google Now updated with widget, Fandango tickets, and more
2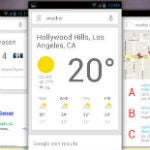 We had heard that Google Now was getting a widget and the new update has just gone live which will bring that to Android 4.1 devices. But, the widget may be the least of the new features contained in the new update. Google Now has gotten quite a few new tricks, including support for Fandango movie ticket cards, and much more.
The Google Now widget can be used on the homescreen of any Android 4.1+ device, and there is also a lockscreen widget for Android
4.2
devices. The lockscreen widget is a bit annoying though, because as you can see in the pics below, it will only show one small item unless you drag down the widget box to reveal more information. Additionally, no matter where you put it, the lockscreen widget seems to become the default screen, so that may not be good for some. Even so, the homescreen widget is quite nice, and dynamically adds/removes content as you resize it.
Beyond the new widgets, Google Now has added new cards. The movie card, which pops up when you're near a theater, now includes Rotten Tomato scores for movies. And, if you've bought a ticket using Fandango, that ticket will pop up as a card. There is also a new card with Zillow integration, if you've been searching certain areas for a new house. If you're a college sports fan, you're in luck, because Google Now finally has cards for college sports scores.
Lastly, there is a new way to use Google's Song Search feature. Now, if you're in voice mode in Google Now and there is a song playing, a music button will appear, allowing you to find out what the song is, and easily buy it if it's in the Play Store.
It's a pretty solid update overall, so definitely jump over to the
Google Play Store
to install it.