Google Now to get media controls, cards showing friends' photos, and much more, app teardown suggests
13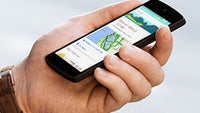 Google just released version 3.4 of its Search app for Android. The update brought along a number of minor and not-so-minor improvements to Google Now, including the control of system settings through voice commands and the handy option to
find your car in case you happen to forget where you've parked it
. But there's a lot more to come in the near future, as a teardown of the app reveals. Strings of code appear to give us clues as to what features Google Now is about to get soon, and some of them do seem worth looking forward to.
To start, Google Now may be about to start displaying cards with photos taken by the user's Google+ buddies. These cards, and most likely the photos that are to be shown in them, appear to be linked to a specific location. Perhaps Google Now will be bringing us photos that our friends have taken nearby? Both a +1 and an email button may be shown on this particular card.
Another improvement coming to Google Now could be the addition of music controls – a new card with buttons for controlling multimedia playback is about to be added, it seems. Chances are that these will be associated with Google's Play Music app only, but who knows, perhaps other music players might be able to take advantage of them as well.
Furthermore, it appears that Google Now is about to get a timer feature, more detailed cards on sports events, hotword detection settings, and improvements to its display of transportation information. A new card showing products nearby, presumably based on recent searches, could also be in the works. Last but not least, pieces of code indicate that a timer feature is about to be enabled.
That's about all that Android Police's APK examination has revealed so far. Our guess on when the aforementioned features are to go live is about as good as yours.