Google Now may soon be part of the Chrome browser
16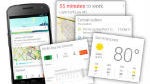 Some intrepid code hunters have found some clues that could point to Google Now shaking off its mobile roots and making a move into the Chrome browser itself, and even ChromeOS.
For those of you who haven't had a chance to try out Google Now, which made its debut in the Android 4.1 Jelly Bean update, it's a system that pulls together all of the things Google knows about you from your search history, GPS location, and calendar, and gives you information that you may want before you look for it by
intelligent push
. So, you'll have sports scores, navigation information, weather, travel, local events, and more all at your fingertips and tailored to your interests.
Apparently, the Chromium branch code has added "skeleton for Google Now for Chrome implementation". Basically, sometime soon, Google Now cards could be integrated into the Chrome Notifications system in the desktop browser and ChromeOS. Google has commented only to say, "We're always experimenting with new features in Chrome, but have nothing to announce at this time."
Google Now as part of Chrome would not only be a solid feature addition for users, but it could act as something of an incentive to bring people to Android, especially since Android would offer more features than the Chrome version of Google Now, because of the location-based cards.