Google Nexus One not getting ICS, but Nexus S will in a few weeks
83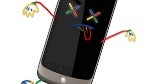 It looks like Apple isn't the only company that wants to push older handsets into obsolescence. As we've covered before, the mobile industry moves fast, and if software is going to keep up with hardware, companies need to make older handsets incompatible with newer software. The newest victim is the original Nexus device the Google Nexus One.
Android Product Manager at Google, Hugo Barra, recently told the Telegraph that the Google Nexus One will not be getting the official update to Ice Cream Sandwich because the hardware is simply too old. It's something we could have predicted last year with the introduction of the Nexus S, of course. The Nexus devices have always been used as examples of features Google wants to see pushed in the Android ecosystem. The Nexus One pushed an AMOLED screen and faster CPU, the Nexus S pushed NFC, bigger internal storage and a more powerful GPU, and the Galaxy Nexus is pushing higher res screens. The Nexus S that was the telltale sign that the Nexus One would be pushed out this year. We're pretty sure that Google was trying to prep the ecosystem with better GPUs to be able to make way for ICS, which needs the GPU for to make the UI and animations as smooth as possible.
Of course, that all means that the Nexus S will easily be able to use ICS, and Barra also confirmed that update would be making it out to Nexus S users in a few weeks. Granted, that is assuming there aren't any troublesome bugs like Gingerbread had with the random reboot, which caused the update to be delayed.
We'd also like to point out the use of the word "official" when talking about the Nexus One update to ICS, because we've already seen very early alpha ROMs of ICS running on the Nexus One, so it's very likely that Cyanogen and other developers will be able to get it running well enough. Still, if you want ICS on your Nexus One, you're going to have to root.