Google Nexus 6P: the specs review
47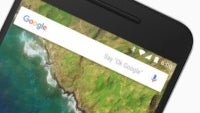 The Nexus 6P is made by Google to present everything that's great about Android in the form of a powerful, large screen smartphone. The 5.7-inch phablet packs cutting edge technology, including the latest and greatest premium-tier stuff by Samsung (the display provider), Qualcomm (the chipset supplier), and Sony (who brought up an unusual camera sensor used for camcorders). Let's give the Nexus 6P
Design
With the exception of the disco-freaky Nexus 4, the Google smartphone line's looks have generally been a bit of a polarizing subject for those valuing design over, or as much as raw power. But finally, those fed up with the Nexus' plasticky, utilitarian look and feel have their pleas answered by Google and its manufacturing partner, Huawei, for the two built the first all-metal Nexus — the 6P. Compared to the Nexus 5 and 6, the smartphone looks and feels premium — a new design beginning for the line.
Dimensions-wise, the Nexus 6P stands at an imposing 6.27 x 3.06 x 0.29 inches (159.3 x 77.8 x 7.3 mm), weighing in at 6.28 oz (178 g). The 6P is bigger than other 5.7-inch screen smartphones, such as the Samsung Galaxy Note5 & S6 edge+, but the device's weight and thickness are definitely within reasonable limits. Moreover, that extra spice is occupied by front-facing stereo speakers.
A notable design trait of the Nexus 6P's is the big black glass bar on the smartphone's back. Its existence is a design and functionality trade-off for the device's all-aluminum body, which looks and feels great but isn't keen on easily permitting wireless signals. This means Huawei had to think of a way to let the antennas do their job without compromising the metal design, and the black bar is what the manufacturer came up with. Fair enough, for the glass window serves a significant purpose — it houses the rear camera, dual LED flash, laser autofocus module, NFC coil, and pretty much everything else that has to do with beaming data over the air. The Nexus 6P's "camera hump" certainly isn't your average, everyday camera hump!

Display
To showcase Android 6.0 in the best shape possible, Google equipped the Nexus 6P with a 5.7-inch Super AMOLED display that has a very high 1440 x 2560 (Quad-HD) resolution and an impressive pixel density of 518 pixels per inch. This means Google and Huawei are straight-up playing in the Galaxy Note5's league, and what do you know, the Nexus 6P actually does happen to have a latest-generation Samsung AMOLED panel. Google claimed that it had created "a very tight spec" for the display's color accuracy and needed the "most cutting edge panel technology' available, so partnering up with Samsung makes perfect sense. Sammy's latest AMOLED screens have fared extremely well in terms of image quality and color reproduction, so needless to say, we can't wait to put the Nexus 6P through our test and see what results we'll come up with!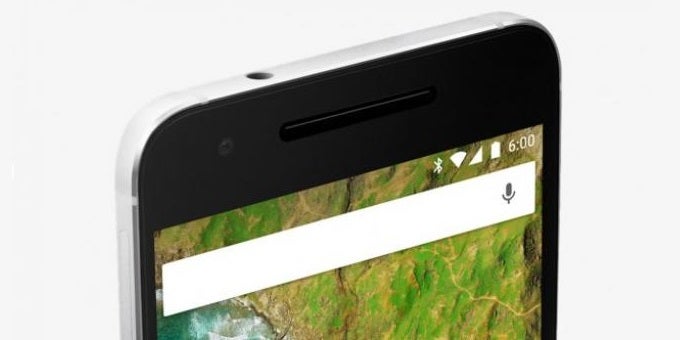 Hardware
The Nexus 6P is typical 2015 flagship fare in regards to the chipset and memory configuration powering it. We're talking about the famous (but not quite in the right way) Qualcomm Snapdragon 810 processor, paired with 3 gigabytes of LPDDR4 RAM memory and up to 128GB of built-in storage. Mercifully, Google starts the base model Nexus 6P from 32GB, rather than the wholly insufficient 16GB, which is a consumer-friendly decision.
Carrying a single NanoSIM slot, the Snapdragon 810 features a 64-bit, octa-core CPU which contains four Cortex-A53 and four Cortex-A57 cores, clocked at up to 2GHz maximum. Keeping the CPU company is the Adreno 430 GPU, which is designed for 4K displays, provides support for OpenGL ES 3.1 plus hardware tessellation, geometry shaders and programmable blending. The Adreno 430 is designed to deliver up to 30% faster graphics performance and 100% faster GPGPU compute performance, while reducing power consumption by up to 20%, as compared to its predecessor, the Adreno 420 GPU.
While unmistakeably a high-end product, the Snapdragon 810 is unable to maintain adequate performance levels under sustained load because of heat generation problems, the solution to which is aggressive thermal throttling. The problem's extent is such that older 800-generation processors, like the Snapdragon 801 and 805, actually maintain higher clock speeds and better frame rates in longer 3D gaming sessions, and they hardly heat up as much.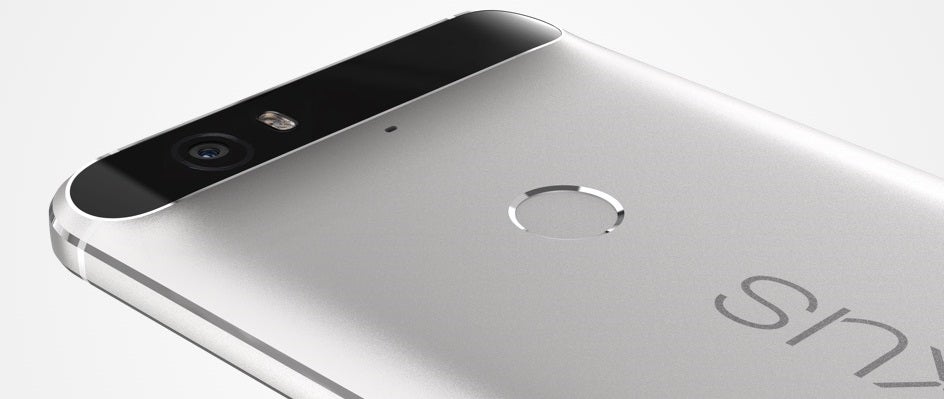 Hopefully, Google and Huawei have managed to tame Qualcomm's beast into decent performance and at least average battery life. Otherwise, the Nexus 6P will become just another high-end smartphone that couldn't live up to the hype.
Thankfully, battery capacity isn't a concern with the Nexus 6P, for Google stuffed a 3450mAh unit inside the phablet and called it a day! Moreover, it has a USB Type-C port (limited to USB 2.0 speeds) and Qualcomm's fast battery charging technology, a delighftul combo for those sick and tired of always plugging the wrong end of the connector and not charging fast enough.
The Nexus 6P supports the following LTE bands: B1/2/3/4/5/7/12/13/17/20/25/26/29. With its Qualcomm modem, the smartphone is compatible with carrier networks worldwide.
Fingerprint scanner
The Nexus 6P is one of the first two Nexus devices to ship with a built-in fingerprint scanner. Positioned on the rear panel, right below the camera, the circular unit supposedly takes "less than 600 milliseconds" to recognize your fingerprint pattern, which would make for a pretty seamless experience if true! The sensor is available for integration with third-party apps via Android 6.0's fingerprint security subsystem, so hopefully, we'll be seeing some finger-scanning action on Android outside Google's native applications in the near future.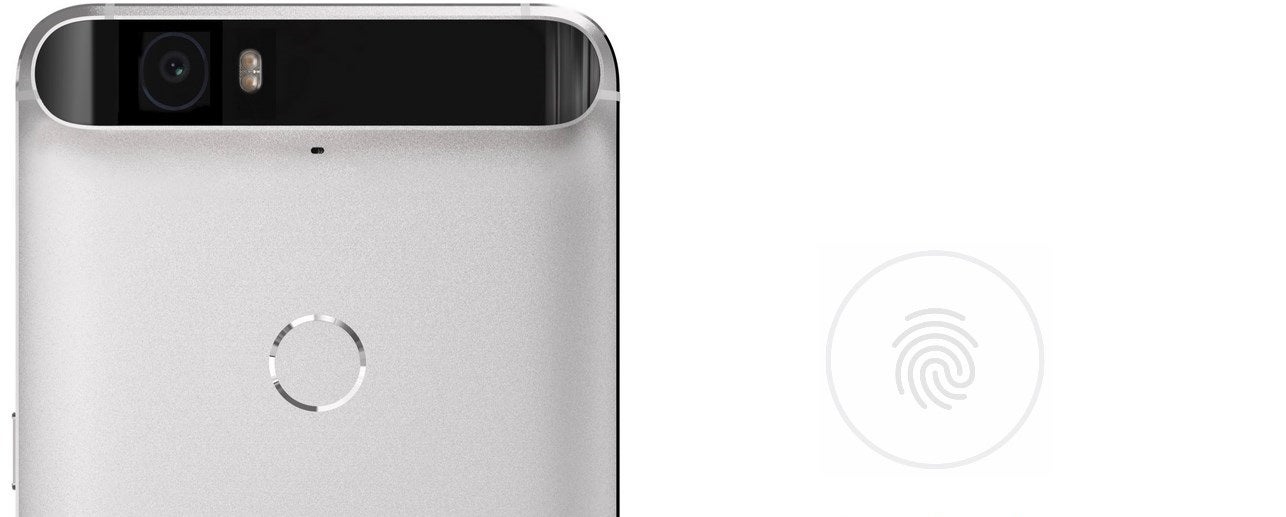 Camera
The Nexus 6P features an "unprecedented" f/2.0 12.3MP Sony camera sensor on its rear panel. The component in question is, most likely, the Sony IMX377EQH5, which is a sensor originally made for camcorders. It comes with improved optics and super-sized 1.55 micron pixels — not as large as HTC's UltraPixel sensor (2 microns), but certainly larger than the 1.2 micron pixels in current camera sensors. This should help it capture more light in dark shots, making pictures better exposed and less noisy. We're yet to see credible night time samples, however, so take this assumption with a grain of salt.
In addition to 12MP (4:3) or 9MP (17:9) still images, the sensor is capable of producing 4K videos, along with impressive 240FPS slow-motion clips. The sensor can actually handle 4K and 2K video resolution recording at 60 frames per second, but Qualcomm's current chipsets, including the Snapdragon 810 used in the Nexus 5X, only go up to 30FPS.
The camera sensor is kept company by a laser autofocus system and dual-LED flash. The former will most certainly make for impressive auto-focus speed, while the latter will help the camera make the most out of situations where light is of insuficient quantity. On the front side, there's an 8MP camera with f/2.2 lens.

Conclusion
With a starting price of $499 for the 32GB version, the Nexus 6P packs lots of advanced technology for the money and seemingly has all it takes to win Android fans and mobile tech enthusiasts. However, as great as it looks on paper and in the hand, the Nexus 6P still has to prove itself in regards to performance consistency and battery life. The Snapdragon 810 processor could literally make or break this device, which is otherwise made to high standards and has carefully chosen components, such as the grade-a Samsung AMOLED display and promising Sony camera sensor.