Google Maps 5.2 ready to be installed on your Android device
3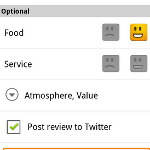 Once again, Google has raised the bar with Google Maps, updating the application to version 5.2. With the upgrade you can now tweet all of your Hotpot pals and your friends using Google apps, sending out your review and recommendation of a location., Simply use the Google ratings widget and choose
Post review to Twitter
. You will be able to preview your tweet and send out your opinion to all of your Google-using pals with Twitter.
Starting Friday, if you need to contact a nearby Google Latitude friend that shows up on the map and want to find out their location, you can "ping" them instead of sending a text or email. Your friend will receive a notification from you, asking them to check in at a specific place. When they do check in, you will receive a notification in return so you will know where to meet your buddy.
Finally, the "Search More Places" option will look for more locations beyond those listed from your original search. In big cities with many places for you and your friends to enjoy yourselves, this option will certainly come in handy.
You can upgrade your Google Maps for free right from the Android Market.
source:
GoogleMobileBlog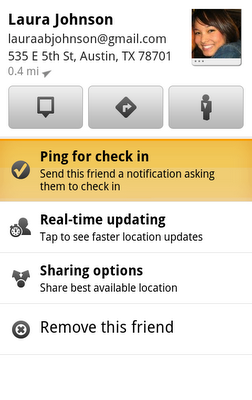 Instead of sending an email or text message to a friend, ping her to send a notification