Google I/O tickets sell out in less than an hour
9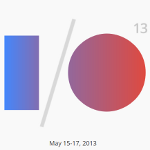 Tickets for the annual Google I/O developer event went on sale and were
all snatched up
in less than an hour. That is a fast sellout, but slower than last year when the show sold out in 20 minutes. The demand for the event comes despite the rather high price. Tickets cost $900 for the general public with students and teachers paying $300 for entrance to the show, which will be held at the Moscone Center in San Francisco May 15th through the 17th.
is no longer sold after feedback from users
revealed it to be terribly lacking in features.
The 6,000 attendees to the event last year
took home a Samsung GALAXY Nexus handset, a Google Nexus 7 tablet and the Nexus Q
. They also were given the opportunity to purchase Google Glass for $1,500 after viewing a live video display of four skyjumpers wearing the device, who jumped out of a blimp and landed on the roof of the convention center.
This year, the buzz around Google I/O centers on a new handset that is believed to be the first true collaboration between Google and Motorola. Dubbed the
Motorola X
,
the device is expected to be powered by Android 5.0
, also known as Key Lime Pie.
source:
PCMag