Google Hangouts gets smarter location sharing, stickers and more (with lots of sticker pics)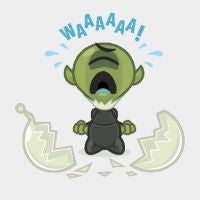 We knew that a Google Hangouts update was on the way, but we apparently didn't know exactly what to expect from said update. We had seen leaks of the
UI changes
on the way, but the update to Hangouts 2.5.8 has a lot more to it than that, including smarter location sharing, tons and tons of stickers, and more.
First, in terms of features, the updates are solid all around. There are the more surface level options, like adding filters to your video when in a Hangout video chat, or having a new "last seen" time stamp so you have a better idea of if your friends are actually around to talk or if they've wandered off to do something else. There is also the beginning of what Google is calling "smart suggestions", which is something that we've seen in various Google products like Gmail and Calendar. In Hangouts, the first smart suggestion that you'll get is when Hangouts notices that you're talking about meeting up with a friend, it will automatically pop up a "share location" button, so you can easily let someone know where you are.
Lastly, there are the new sticker packs - 16 packs in all. Stickers have become huge with messaging apps recently, and Google doesn't want to be left out; so, there are tons of stickers to choose from, including aliens, bunnies, cats, koalas, pirates, penguins, vikings, and even Santa. Most are static images, but there are still the animated yellow smiley guys that were included before, if you want some movement.
One thing to note is that our fears seem to be confirmed that the update does once again remove the ability to see when your friends are online or not. We're hoping that is a temporary disappearance. The Hangouts update will start rolling out today, but as per usual, it may be a while before it hits your device, so be patient.