Google Goggles to offer translation service
1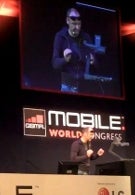 In another example of how the modern smartphone is making the world smaller, a new service available via Google Goggles can help you get an instant translation of text in a foreign language. Google Goggles is part of the Android 2.1 OS, but is also offered at the Android Market for those using Android 1.6 or higher. This new Labs feature is part of Goggles and allows you to use your handset's camera to snap a picture of text in a foreign language. The picture is sent to Google's servers where optical recognition software is used to translate the text and then it is sent right back to you, translated in the language pf your choice. The technology was shown off to the public at the MWC.
During the demonstration in Barcelona, a menu in German was used and a properly translated version was received quickly. Google Goggles uses a handset's camera to take pictures of items and landmarks from which a description and location of the item or landmark is sent to the user's phone. We previously
reported
that the Mountain View based search firm was working on software that would allow cellphones to automatically translate a conversation back and forth in real time. The company's CEO Eric Schmidt says that with the new capabilities of Goggles, they are getting closer to that goal. "I've got voice recognition (in my phone) and I've got Googletranslation... so why can't I just talk on the phone to someone whodoesn't speak my language?" the CEO said, "Well we're not quite there yet but it's coming." No launch date for the service has been revealed.
source:
YouTube
,
news.com.au