Google working on software that instantly translates phone calls in real time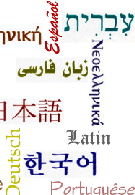 Imagine having a phone conversation with someone in Japan. He is speaking Japanese, you are speaking English and both parties can understand what the other is saying perfectly. This is the goal of some Google employees working on a project that will allow such real time translating on yor smartphone. Franz Och, head of Google's translation services said, "We thinkspeech-to-speech translation should be possible and work reasonablywell in a few years' time. Clearly, for it to work smoothly,you need a combination of high-accuracy machine translation andhigh-accuracy voice recognition, and that's what we're working on."
Google's web site translation service currently works on 52 of the world's 6,000 plus languages with Haitian Creole being the latest addition. But Och says that speech is harder to translate than text. He says, "Everyone has a different voice, accent and pitch. But recognition should be effective with mobile phones because bynature they are personal to you." The honorary professor of linguistics at BangorUniversity, David Crystal, said the problems of dealing with speed of speech and rangeof accents could prove insurmountable. "No system at the moment can handle that properly," he added. Google has pulled off the impossible before, so we wouldn't bet against them pulling this off.
今聞こえますか?
(can you hear me now?)
source:
MailOnline
via
MobileCrunch