Google Glass patent application is very detailed, but broad
10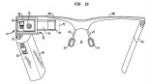 Word has it that Google has been talking to eyewear designer
Warby Parker
to help bring some fashion to Google Glass, and a look at the newly released Google Glass patent application shows us detailed ways at how Google Glass can come in a lot of different configurations. The patent application is actually quite broad in some respects.
It's kind of a strange patent filing, because the application has a few very detailed diagrams of Google Glass as we've seen it put together so far, but there seems to be a lot of leeway in the design. The Glass version that we've seen is detailed as having a screen that can be adjusted "normal to the focal center of the eye," and how the weight is distributed. Most of the weight is over the right ear, but is balanced over the ear.
In the filing, there is a gyroscope, accelerometer, and other sensing devices, along with a touch-pad. And, interestingly there is mention of displaying images in a way that they "appear to interact with the real-world view". This would be something more than the augmented reality that we usually see, which is a simple overlay of graphics on camera data, and could be pretty cool.
But, there are a lot of parts to Glass that could easily change. It can either have a wired or wireless connection to another device. The camera can be moved around on the frame, or Glass could have more than one camera on it. The display could be made of multiple materials like "transparent or semi-transparent matrix display, such as electroluminescent display or liquid crystal display" or even "a laser or LED source and scanning system [which] could be used to draw a raster display directly onto the retina of one or more of the users eyes."
It's a very detailed patent filing, and broad in the best way possible: broadly specific. It's nice to see a patent filing that doesn't just give the basic idea and leave the specifics out to achieve broad coverage. This way of filing gives an interesting perspective like "this is my idea, and these are all the ways I think it could be done", anything else isn't covered.