Google Glass is finally complete: Glassagram allows you to add filters to pictures
2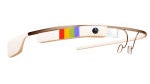 We know exactly how you all felt. When we first heard about and saw Google Glass, the only thing on your mind was "Where are the photo filters?" There was no way that people could be allowed to take photos and not add a filter to them before sharing, right? Well, fear no more, because a Glass developer has slapped together the basics of a photo filter app called Glassagram.
To be clear: Glassagram is not an Instagram app for Glass. The only thing the app does is add options to put filters on your Glass photos before you share them. The stock Android camera does offer photo filters, but only in Jelly Bean 4.2, and as was revealed recently, Glass is running Android 4.0.4 Ice Cream Sandwich.
The process is actually a bit cumbersome with Glassagram. In order to get filters on your photos, you have to share the photo with the Glassagram service first. It will then apply all available filters to your photo and send the pack back to you, where you can then choose the best option. It's definitely nothing revolutionary, or even likely the best way to accomplish photo filters on Glass, but it is an interesting app in these very early days.