Google Glass heads to the UK for £1000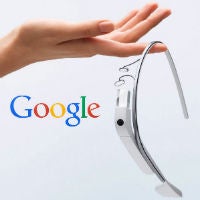 The Google Glass Explorer program has had an extremely slow rollout. It started as an invite-only affair, then recently opened up to anyone who had an extra $1500 to spend on buying Glass. But, the whole time the program has been US-only, which has made eBay sales of the device very popular overseas. Now, Glass is finally available outside of the US.
Of course, Glass is still English-only, and the only other country where you can buy the device is the UK. Interestingly, those in the UK who want to buy Glass can do so directly from the Google Play Store. Glass has yet to be offered through the Play Store in the USA. The device will cost those in the UK £1000, which is about $1700 at the current exchange rate. Given the usual markup that electronics get in the UK, that's not too bad, although it is still a prohibitively expensive for most.
The added cost does come back though, because buyers in the UK won't get frames from the Titanium collection or the shades for free. Those will cost £175 and £120, respectively. Beyond those, users can also pick up stereo earbuds for £65, mono earbuds for £40, a padded case for £60, or a ClearShield visor for £60.
And, if you happen to live in or around London, you can sign up for a hands-on demo of Glass which are being held June 27th and 28th.