Google Glass easter egg shows off the entire development team
3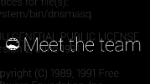 We all know that Google loves its easter eggs. There have been easter eggs in Android since Android 2.3 Gingerbread. There are tons of different easter eggs throughout Google products, mostly in Search, but still a good number in other products. So, it should come as no surprise that the Google Glass Explorer Edition has an easter egg as well.
Apparently, Mike LeBeau of the Google Glass development team has confirmed the easter egg. If you were lucky enough to have Glass, you'd find it in under Settings --> Device Info --> View Licenses. Once there, you would tap the touchpad nine times (and get an increasingly loud beep after each tap), until finally you were shown a panorama (or Photosphere) of the entire team that worked to build Glass.
We have to say, we like this easter egg more than the
nyan cat
found in Ice Cream Sandwich. The personal touch is nice.
Recommended Stories