Ice Cream Sandwich Easter Egg is Nyan Cat absurd (video)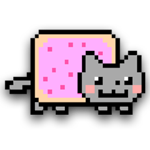 Google has been putting little Easter Eggs in the past couple versions of Android and Ice Cream Sandwich is taking it to a whole new level with Nyan Cat inspired animated madness. The new Easter Egg was found in the Android development kit under the label LogCat.
The image itself was found before, because it is accessed the same way as in Gingerbread and Honeycomb. In Android versions from Gingerbread on, if you tap repeatedly on the Android Version in the About Phone menu, you'll get a bit of art. In Gingerbread, you get the Zombie art by Jack Larson, in Honeycomb it's the Android bee, and now it's a strange Ice Cream Sandwich Android. But, as you'll see in the video, it's not just a still image any more and becomes an animated bit of ridiculousness inspired by the Nyan Cat meme.