Google Glass app Blue is a Glass wearer's best companion at the ballpark
5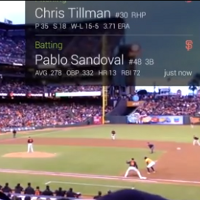 If you love baseball, you're going to love Blue, an app for Google Glass wearers. Using geolocation data, the app figures out which ballpark you're at and doesn't make fun of you if say, you happen to be watching a game at Marlins' Park. The app tells you the speed and type of each pitch thrown, even displaying the speed of the toss. This is a tool that no manager, real or pretend, should be without. The result of each play is displayed on your Glass.
While most of this information can be found on your phone or tablet from ESPN's Score Center, or from At Bat, wearing the connected specs leaves you able to grab that foul ball from
Ryan Braun
,
Derek Jeter
, Giancarlo Stanton that you've been dying for. Considering that there are other apps that provide the same features on a phone or tablet, Blue won't be the breakout app for Google Glass, but it might be fun to try it out at the ballpark anyway.
source:
YouTube
via
Engadget