Google Duo will be replacing Hangouts as the primary video-chatting app for Android phones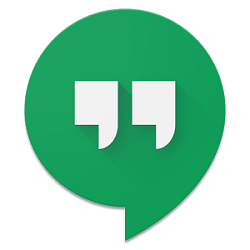 When Google announced Allo and Duo back at Google I/O this year, there was a bit of confusion surrounding how the two new platforms would work in conjunction with the host of other messaging solutions that Google already offered - more specifically, Hangouts. We got word back in August that
Hangouts wouldn't be dying off
, but would rather have its focused switched over to the enterprise market over that of the consumer base. Today, that transition is finally coming to fruition with Google's announcement that Hangouts will no longer be required to be pre-installed on Android smartphones starting in December of this year.
The announcement comes by way of an email that was sent out to partners of Google Mobile Services on October 5th, and in the email, it's stated that "Google Duo will replace Hangouts within the suite of core GMS apps, and Hangouts will become GMS Optional for telephony products." Essentially, this means that OEMs for Android smartphones will no longer be required to pre-install Hangouts on their devices, but will instead be required to It makes sense to see Hangouts no longer needing to be pre-installed on Android smartphones, but what is peculiar is the fact that Google is simply replacing it with only Duo. Google Duo and Allo are meant to work in conjunction with one another, with Duo offering video calls and Allo handling text-based conversations. Both Allo and Duo are solid apps that offer a lot to love, but Google's going to need to push both of them equally as hard if they want to establish the user-base that both apps are still grasping at.
As for Hangouts, the service is far from dead. The app will live on just fine on the Play Store, but you'll simply need to go there and download it if you want to use it on any Android smartphones that come out next year. This really isn't that big of a deal, but it is a big move forward with Google's push in taking it out of the consumer market and pushing it more towards enterprise use.
As for Hangouts, the service is far from dead.
I've dabbled a bit with both Allo and Duo myself, and while the apps function perfectly fine, I don't have any real particular use for them. I've never been one for video chatting, and all of my text communication is handled through other apps (WhatsApp, Google/Facebook Messenger, Skype, etc.). I certainly hope that Google sees the success that they're striving for with Duo and Allo, and the move to making Duo a required GMS app is certainly a step in the right direction.