Google Camera review: simple, yet very powerful
19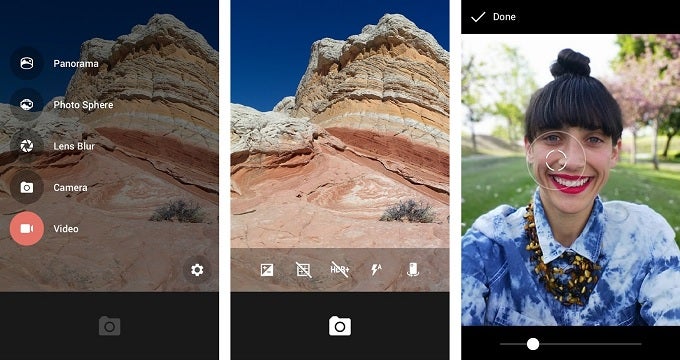 | | |
| --- | --- |
| Developer: Google Inc. | Download: Android |
| Genre: Photography | Price: Free |
The latest nail in the coffin of the monolithic Android of old comes in the form of the Google Camera app, which is now available as a stand-alone app. The imaging app brings the full power and simplicity of the native camera app you'll find on stock Android devices like the
Nexus 5
, and we've had quite some fun playing around with it on handsets hitherto ineligible for it. In fact, given how background de-focusing techniques (bokeh effects) have shot up in popularity with phones like the
One M8
,
Xperia Z2
, and
Galaxy S5
, it felt like it deserves a more in-depth review from us.
But Lens Blur, as Google calls the aforementioned technique, isn't the only great thing about the Google Camera. You also get the company's industry-leading 360 panorama mode (sometimes referred to as Photo Sphere), along with normal panoramas, and, indeed, the standard: stills and video capture. Obviously, for most devices that come with a dedicated and highly customized camera app (e.g. S5, M8, Z2), the Google Camera mostly serves to close a functional gap, though some may prefer its simplicity over their existing, built-in app.
As we've come to expect from Google, its camera app has a very rudimentary interface, though that's not necessarily a con. Opening the app introduces you to a very stripped-down UI, with a single icon that contains the few controls available (HDR, flash settings, grid lines). The available shooting modes also make a short appearance from the left side of the interface, in order to make their presence known, and then get out of your way. You can recall these with a single swipe from the left border, and take your pick. Doing so will also reveal a shortcut to the settings, which allow you to tweak away the resolution at which snaps and video is taken, and also control the image quality of panoramas and snaps taken with the Lens Blur option.
Speaking of Lens Blur, it's quite easy to use. Take a simple still, and then slowly move the device vertically when prompted, and let the software do the rest. In our experience, the feature is very well implemented, and delivers on its promise -- snaps get a pleasant background blur, while the object in focus remains sharp. The other stand-out feature of the app is, again, the ability to shoot immersive, 360 panoramas. Given how Google pioneered the feature for Android, it's without a doubt the best implementation of the shooting mode -- stitching has gotten very intelligent with the latest update. It's also somewhat easy to get the hang of it -- you basically start off by aiming your camera at the blue point in the center of the scene, and then just sweep around both horizontally and vertically, hunting down other 'dots' that indicate where the next shot is.
The only draw back with the Google Camera that we've seen is the fact that it doesn't necessarily play nice with every device, and crashes do happen every now and then. That said, those were isolated incidents on the whole. Nice job, Google!
Pros
Simplistic interface
Well-implemented and rare shooting modes, like Lens Blur and 360 panoramas
Works on a variety of devices
Cons
Crashes every now and then
| | |
| --- | --- |
| Developer: Google Inc. | Download: Android |
| Genre: Photography | Price: Free |