Google CEO promises 11 Daydream VR-compatible Android phones by the end of 2017
8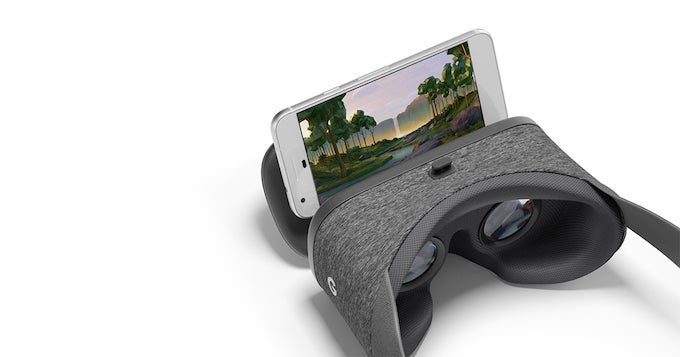 VR and AR capabilities will undoubtedly turn into a must have feature on smartphones, as the tech gathers pace in the mainstream. Only a few years ago, headsets that take you to whole new worlds and immersive virtual realities were entertained only as gimmick gadgets in sci-fi productions, and no one could even begin to picture a VR-capable smartphone.
But only few years later, big-name tech manufacturers are in a tight competition to deliver devices that are capable of offering as real a virtual experience as imaginably possible, and do not feel heavy or unnatural on your face.
Google's Daydream View headset that was released in the last quarter of last year is one such device, praised for its affordable price and lightweight design. The device is intended to work with Google's Daydream VR platform and compatible smartphones to give Android fans the opportunity to experience the world of VR.
For now, though, Daydream View works only with a handful of phones, which makes it a bit limiting, but not as limiting as, say, Samsung's Gear VR that only works with Sammy's phones. Speaking of Samsung phones, Samsung's
Galaxy S8
flagships actually started receiving an update today that adds Daydream support to the handsets. Apart from these, Daydream is also currently compatible with the following devices: Google's
Pixel
phones,
Moto Z
,
Huawei Mate 9 Pro
and
Porsche Design Mate 9
,
ZTE Axon 7
and
Asus Zenfone AR
.
Nonetheless, Google's CEO Sundar Pichai made a statement during Alphabet's earnings announcement yesterday, promising that there will be 11 Android smartphones that integrate with the Daydream VR platform and the View headset by the end of this year. This means that some Android enthusiasts could soon be able to stick their phones into the View device and trip into the virtual realm, as they clutch onto the touch controller that accompanies the headset.
Exciting news indeed, but before you get super-duper excited, make sure you check if Daydream is supported in your country of residence, as Google has not yet expanded it to countries, such as Mexico or some smaller countries in Europe.
via:
TheVerge