Google CEO Larry Page thinks Jobs' Android rage was just "for show"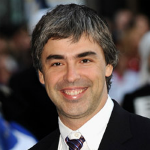 It's not very often that Google CEO Larry Page does a sit-down interview and gives
insight
to the vision of Google, so when it happens, we tend to take notice, especially when he's talking about competition, Apple, Android and so many more interesting things.
Quite a bit of the interview with Bloomberg Businessweek centered on Google's strategy, the idea that the company is a search company and the budding Google+ network, all of which is interesting, but not exactly mobile related, so we just want to cover a small portion of that. A couple things we found interesting are that Page doesn't really believe that Google is a "search company", and he also has no illusion that Google+ can become the largest social network around, which Page says is "not realistic". Rather than Google being a "search company" (or advertising company as would be more accurate, though never mentioned in the interview), Page argues that Google is "about using large-scale kind of technology: technology advancements to help people, to make people's lives better, to make community better." We don't expect many media companies to see Google that way, because it's easier for most to boil down the business to being a "search company" despite other products, but if Google sees itself that way, it seems like a good thing to us.
Now for the goods that we care about: mobile. Unfortunately, Page didn't really have much to say on the topic of the Motorola acquisition and the plans moving forward with the company. He did say that he is "really excited for the opportunity to arrive", adding that getting a new Android device is like being "a kid on Christmas". That section of the interview was actually more interesting simply for the way it seemed that Page was genuinely excited about mobile devices and the possibilities afforded by them. Assuming Bloomberg was quoting him directly, it seemed as though he got so excited that he began stumbling over his words trying to explain how much his life "has changed" because of mobile devices.
One specific topic regarding Motorola that Page did get into was in patents, saying that although Google owns many of its own patents now, it has never "asserted those against anybody". Then, he took a not so veiled swipe at Apple in saying that Google has "somehow been successful without suing other people over intellectual property."
Speaking directly about Apple, Page said that he had spoken to Steve Jobs near the end of his life when Jobs was quite sick and Page took away some "interesting insights about how to run a company". He also took away an idea that Jobs' anger over Android was "for show". This is certainly not the picture painted by other sources, notably Walter Isaacson in his biography of Jobs, but Page believes that Jobs' anger over Android wasn't real, but a way to create "an obvious competitor and rally around that." Whether that's true or not Page wants to be seen as taking the high road, saying that he doesn't like looking to competitors, but wants to "shoot higher" to "what's possible and how to make the world better."
It's definitely an interesting look into Larry Page and how he sees his company. Whether real or a product of a good PR team, you definitely get the sense that Page is genuinely focused on running a company where the main focus is not to maximize profits in order to appease shareholders, but to run a company and create products that help people. The products may not always succeed, but that sounds like a pretty admirable aim to have, and as long as the company stay successful, shareholders probably won't mind too much.