Gone phishing: Apple users, watch out for this attempt to steal your personal information
24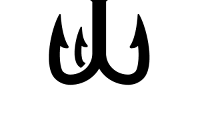 Here's a warning for those with an Apple iPhone, Apple iPad or any other Apple branded product. A phishing scheme is making its way around the internet aimed at Apple users. As with all phishing attacks, the email looks as though it came directly from Cupertino and starts by telling you that your Apple ID has been disabled. The scam tries to get you worried because it states that someone from a different IP address is trying to use your account.
The email provides a link where you are asked to provide your Apple ID and password. Run away. "X" out the email immediately, if not sooner. Keep in mind that Apple does not check your IP address, or else you might be unable to log into your Apple account from an iPhone or iPad. Additionally, if you stop and actually read the note, it says to
Penligst
to verify your identity. A quick Google check found no such word in the English language, and we're pretty sure that Apple wouldn't make up a word when communicating to customers.
Just remember that Apple will not embed a link to verify information. Also, if you run your cursor over the link, you will find it goes to a non Apple website with a .tk Country code domain. That stands for Tokelau, a country in the South Pacific that was responsible for 21.5% of all phishing attempts in 2010. So do your friends and family a favor. Spread the word before any of them makes a mistake that could cost them some money.
An image of the actual email can be found below.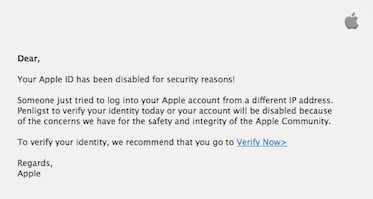 Watch out for this phishing attempt aimed at Apple users
source:
TUAW
via
RedmondPie