Gold diggers, check out some photos of the Lenovo Golden Warrior S8
16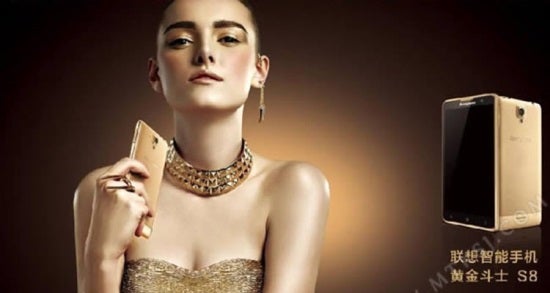 It seems Lenovo has literally struckgold with its latest, unannounced smartphone - the Golden Warrior S8.Photos of the handset enjoying the Lenovo K900's company crawled onChinese social media and are up for the whole world to see. Moreover,the GW S8 is said to sport a 5.3-inch 720p display, an octa-coreMediaTek 6592 CPU running on 1.4GHz, 2GB RAM, 16GB of storage, a 13MPrear camera, a 5MP front camera, and a 2000mAh battery.
However, theoperating system is Android 4.2.2 - it's a more than an year-oldversion by now, which shows that MediaTek is getting late withsupporting recent Android builds in its chips. Still, the Taiwanesesilicon slinger has promised to bring KitKat in the beginning of May. Meanwhile, the XDA community has already brought KitKat to the quad-core MediaTek MT6589/MT6589T using CyanogenMod 10.2.
The biggest highlight of the GoldenWarrior S8 is its golden design - while it comes off a little kitsch,it sure catches the eye and doesn't look like most smartphones outthere. But if you feel it looks cheap, you are actually right, as thephone is cheap – it's said to be priced at a frugal $130 inChina. However, if you envy Chinese customers for getting such nicephones for pennies, consider that the country's highest monthlyminimal wage is about $300, or $2.79 per hour. For comparison, thehighest minimum wage in the US is $9.32 per hour as of January 1 2014.
Thanks for the tip, Andrea!
Lenovo Golden Warrior S8
via Webtrek(Translated)